Online Student Resource Center

To supplement your training with us, we have provided a wide range of online content which you can access below. Please go through at your own pace and watch all the videos, download the eBooks that interest you, and utilize the many hypnosis scripts we have provided to practice with. The videos are all hosted online and can not be downloaded, so you will need an active internet connection to watch them. You are welcome to download the eBooks and hypnosis scripts, but please don't share them with anyone as they are for your use only. Enjoy...
PURCHASE ANY COURSE FOR
INSTANT ACCESS TO...

LIFETIME ACCESS
TO OUR ONLINE STUDENTS RESOURCE CENTER 100'S OF VIDEOS, eBOOKS, HYPNOSIS SCRIPTS & MORE!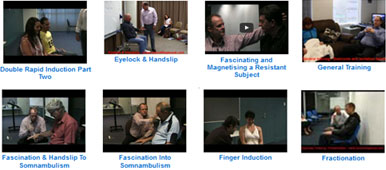 50 +

demonstration hypnosis & mesmerism videos

Watch and learn as Rick demonstrates the practical application of many hypnotic inductions and therapeutic techniques. These videos show first-hand how to use hypnosis, fascination and mesmerism as demonstrated by Rick in his group trainings. Learn how to put a client into hypnotic trance quickly, easily & deeply!

50 +

RARE HYPNOSIS EBOOKS

You could literally spend weeks reading all the amazing content in our eBook center. Download and view everything from rare hypnosis & mesmerism books to practical instruction guides to personal development books by many acclaimed authors.

500 +

HYPNOSIS SCRIPTS TO PRACTICE WITH

These scripts can be used as you delve further into your course to practice on people with. They can also be used as inspiration to come up with your own scripts or as examples on how to approach treatment of the many different issues covered.
BEGIN YOUR TRAINING
TODAY!